Winemaking during my childhood
I still remember my grandpa in his small primitive distillery every October to gather along with many other villagers, all close friends, and relatives from Kastraki to produce the wine and tsipouro. The winemaking of the year was considered to be a unique opportunity, especially for men, to socialize, away from home's troubles and wives' murmurs; to sit around the big fires underneath the huge cauldrons, boiling and distilling for days the years' grapes to make Tsipouro. My grandpa will stay sleepless sometimes for many nights taking care of the whole process. His small distillery I remember it quite dark, filled with the smoke of the burning wood and mixed this heavy smell of anise and of the boiling grapes. It was an excuse for men to drink, sing, joke, and feast.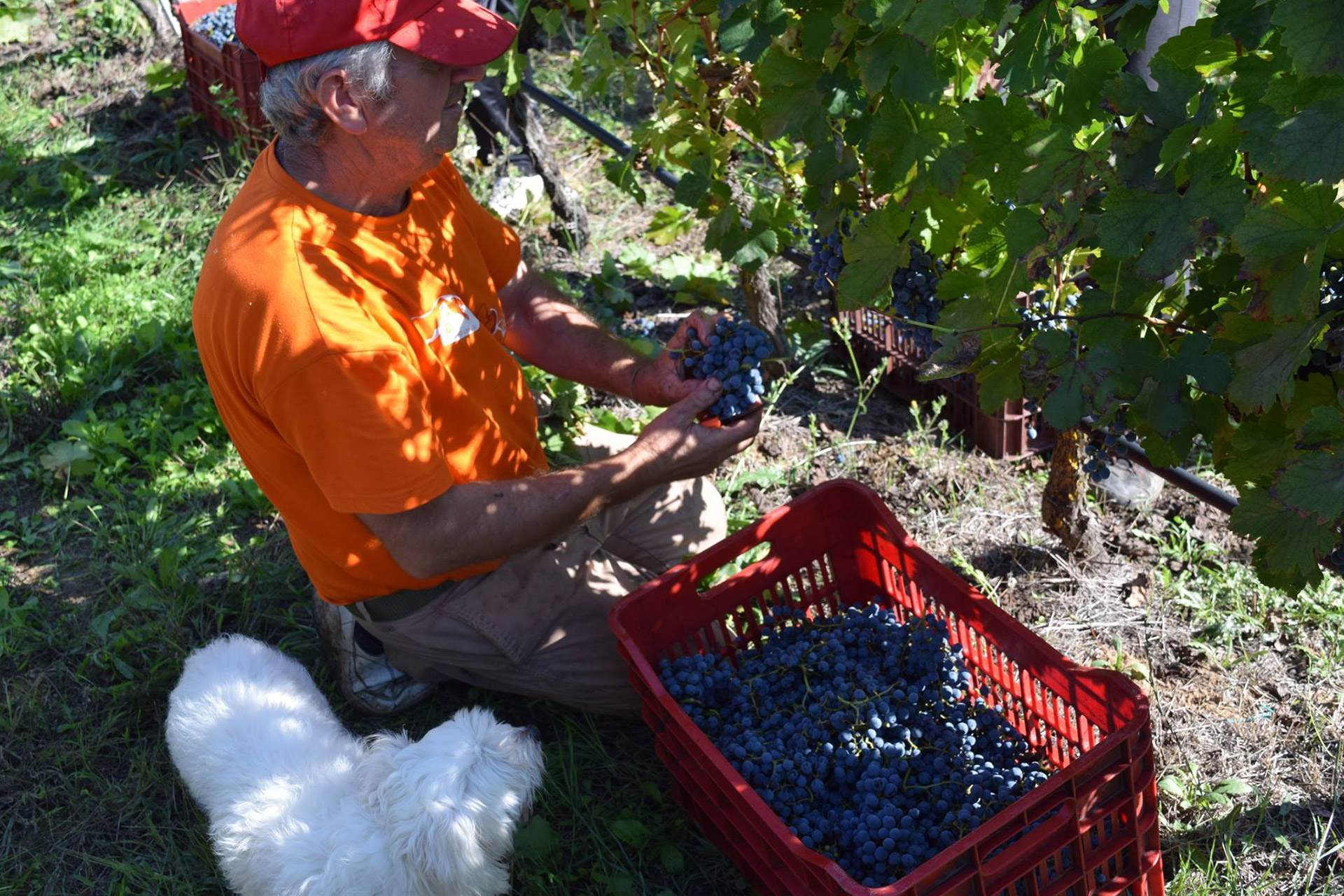 As kids, we had the privilege to participate in the old traditional ways of winemaking, squeezing, and crushing the grapes with our bare feet. We were literally thrown inside some big old oak barrels along with tens of wasps and bees with the task to crush the grapes. I can hear my grandpa's loud laugh as he used to stay aside to proudly watch his ecstatic grandchildren dancing half-sank in the grapes, like true worshipers of god Dionysos! And then he'll take a serious look on his face to tell "Don't worry kids, the filthier your feet become the better wine I'll make!" As I look back nowadays, I think probably we were the last generation of kids to honor the old gods. Those days are long gone now, or maybe not…
General characteristics of Meteora wines
The area around Meteora is still full of vineyards and many people carry on the long-held tradition of wine and tsipouro production. For those who don't know anything about tsipouro is a locally produced liqueur; made out of grapes with the addition of anise that gives it a distinctive sweet flavor and a deep white color once you mix it with water or ice. Meteora is located right on the edges of the great plain of Thessaly, the largest unified lowland area of Greece. On the west, the Pindos mountain range and on the east Ηassia Mountains almost completely surround the plain of Thessaly and especially Meteora where large vineyards are presently located.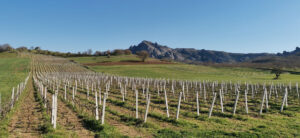 The main characteristics of these Thessalian vineyards are that most of them are located near beautiful natural landscapes and well-known tourist attractions, making wine tourism in Thessaly particularly attractive. The Protected Geographic Indication (PGI) Meteora wines are mostly produced in the northwestern part of Thessaly, in the grape-growing region that is around Meteora and Kalambaka, having as an epicenter the area of Theopetra Cave and its archeological site.
Loudas Winehouse
One of the finest representatives of Meteora's wine production is Loudas family and their exquisite wines. "Loudas Winehouse" is an established family winery located on the east slopes of Koziakas mount just 3 km west of Meteora at a village called Diava. The winery is run by two young people, Konstantinos Loudas and his wife Zaharoula, who both share their great passion and love for a high-quality winery. The family's pursuit for viniculture started sometime at the beginning of the previous century, by cultivating the first owned acres for private and commercial use.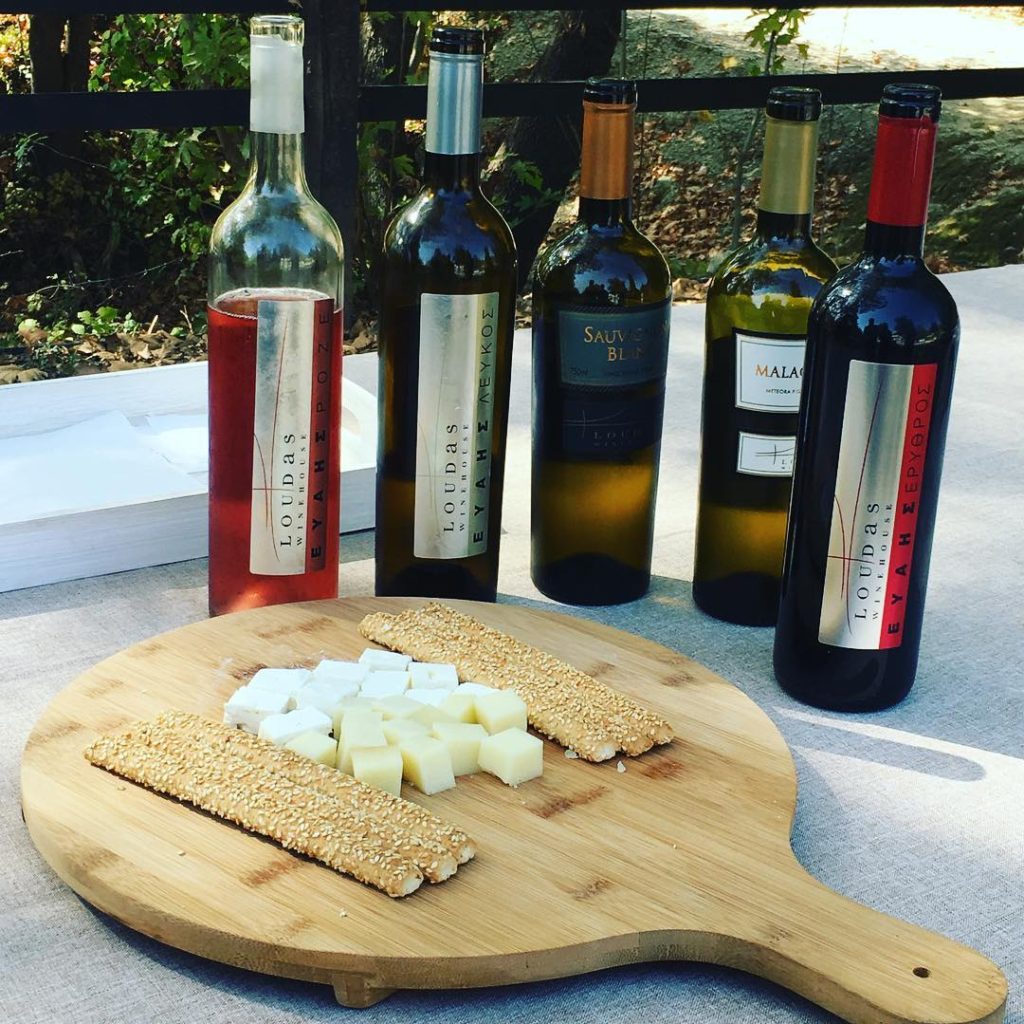 Keeping up with family traditions, a modern winery and distillery were created in 2006, with the purpose of highlighting the local varieties through a modern winemaking way. You may search for more information on their site, where you will find relevant info for some of the most important wine varieties they cultivate. Loudas family and their winery, aren't oriented into mass wine production, nor do they ever wish to do so. Instead, they are focusing entirely on a pursuit to produce year after year high-quality wines through the respect for the Greek cultivating methods and the pure enjoyment of the whole winemaking process.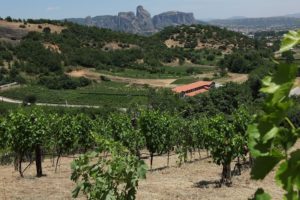 One of our very favorite wines produced by Loudas family is the "Kokkino Ampeli", a red dry table wine, aged from Xinomavro, Syrah, and Merlot. "Kokkino Ampeli" was the name of the location where the vineyard exists. It's an intense red with purple hues, aromas of red fruit and tobacco with leather, and an aftertaste of roasted nuts. We love this wine to accompany delicious grilled lamb chops. Another excellent white wine produced by the family is the Sauvignon Blanc Dry White, with a shiny yellow-green color with a rich body, a fruity aroma, and a long finish.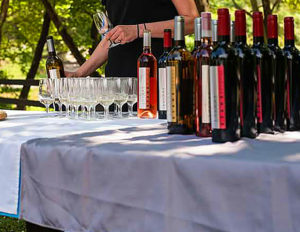 The fragrance has the presence of tropical fruits like grapefruit, mango, and actinolite, and together with its distinctive acidity, they compose a cool wine, with a strong aroma and a long aftertaste. It goes well with white meat and its acidity allows it to go well even with fatty varieties of cheeses and dishes. Loudas winery is located next to Diava village. Near the central square of the village, there is an area called "Platania", a place with huge old maple trees. On the thick shade of these huge trees, you'll find a couple of nice traditional taverns that offer exquisite selections of grilled meat! The most ideal place for a short getaway, especially on a hot summer day.
Domaine Liakou winery
The winery Domaine Liakou is another fine representative of Meteora's long winery tradition, located at an altitude of 470m, you will find it driving some 24 km north of Meteora on a very scenic road leading from the town of Kalabaka to Gavros village.
The winery makes the best possible use of the grapes grown in both the vineyards of the Domaine and those belonging to their associates in the Meteora region, located no further than 3 km from Domaine Liakou winery. Our favorite wine of Domaine Liakou is called "Iera Monopatia" or "Holy Paths". This deep red wine is produced from Syrah and Merlot grape varieties and aged for 12 months in French oak barrels.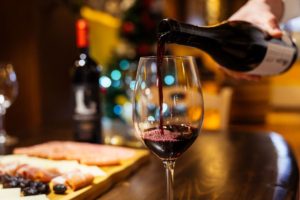 Robust, with rich aromas of vanilla and sweet spices, it has a balanced, round body and a long aftertaste. It is an ideal accompaniment to grilled and stewed meat, spicy flavors, yellow cheese, and desserts. Another favorite wine is "The Asproparis", produced out of a Greek grape variety called Malagouzia, this is a white wine that has a soft golden yellow color, fine aromas of white flesh fruits, and lemon blossoms, fruity mouth, and a well-structured long finish. The Liakou winery has a nice area for wine tasting, always accompanied by a selection of delicious local white and yellow cheeses.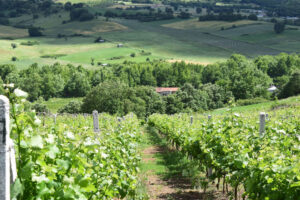 If you decide to visit "Domain Liakou winery" then you should not miss the chance to visit the chapel of St Nikolas, next to Gavros village. The chapel is made inside a cave on a cliff similar to the rocks of Meteora. In fact, if you visit the village of Gavro you will be amazed to realize that the rock complex of Meteora extends to a much wider area of what is widely known. Park your car in the central square of the picturesque village of Gavros and from there it's a short hike of no more than 20 minutes to the chapel of St. Nikolas. The views of the village and of the entire surrounding area are just breathtaking!!!