Our Fleet of vehicles for Meteora
Visit Meteora is a company that constantly strives to excel in everything it does! We go to great lengths to make sure that all of our customers enjoy the finest quality of services. We strongly believe that each and every one of our customers deserves to enjoy the highest standards of safety, travel experience, and care in the services we offer. That's why over the past few years Visit Meteora has invested in a brand new fleet of vehicles, the best luxury minibusses, and private vehicles available in the market in order to satisfy the highest standards for safety and comfort. That's why we don't hide our vehicles, we are proud of them and we show it:
Below we give the list of all the vehicles our company operates:
Mercedes Benz Sprinter 315/37, model 2009
12+1 seats, VIP Mercedes Benz Sprinter 315/37 minibus offers full leather interiors and wood finishing, climate control, Wi-Fi onboard, LCD monitors with TV, DVD, USB, and memory card slots, refrigerator with refreshments on board, public address system, fully licensed.
Mercedes Benz Sprinter 519 CDI/43 Traveline 77, model 2018
One of the latest additions in our fleet of minibusses is this 19+1 seats VIP Limo Traveline custom-made bus for our travel agency, incorporating to its design many improvements like glass rooftop, USB ports in all seats and many more. In addition to that, it also offers full leather bucket seats and interiors with wood finishing, USB ports on some seats, climate control, Wi-Fi onboard, LCD monitors with TV, DVD, USB and memory card slots, refrigerator with refreshments on board, fully licensed.
Private Vehicles for tours and transfers
Mercedes Benz V-Class Exclusive model 2019
Mercedes-Benz presents luxury in a unique format with the V-Class EXCLUSIVE, the ultimate VIP shuttle and an exclusive vehicle for long journeys. Our vehicle which is the latest addition to our fleet is 7-seater. The V-Class EXCLUSIVE is the top-of-the-line variant and the most exclusive mono volume vehicle on the market. It is ideal for use as a VIP shuttle and a luxurious comfort oasis for long journeys. The vehicle more than lives up to the promise of the 'EXCLUSIVE' label on the front mudguards. In addition to the sports suspension system, the 19-inch alloy wheels with a 16-spoke design give the V-Class EXCLUSIVE an exciting sporty character. Naturally, access to the interior is automatic – either via the EASY-PACK rear hatch or the two electric sliding doors.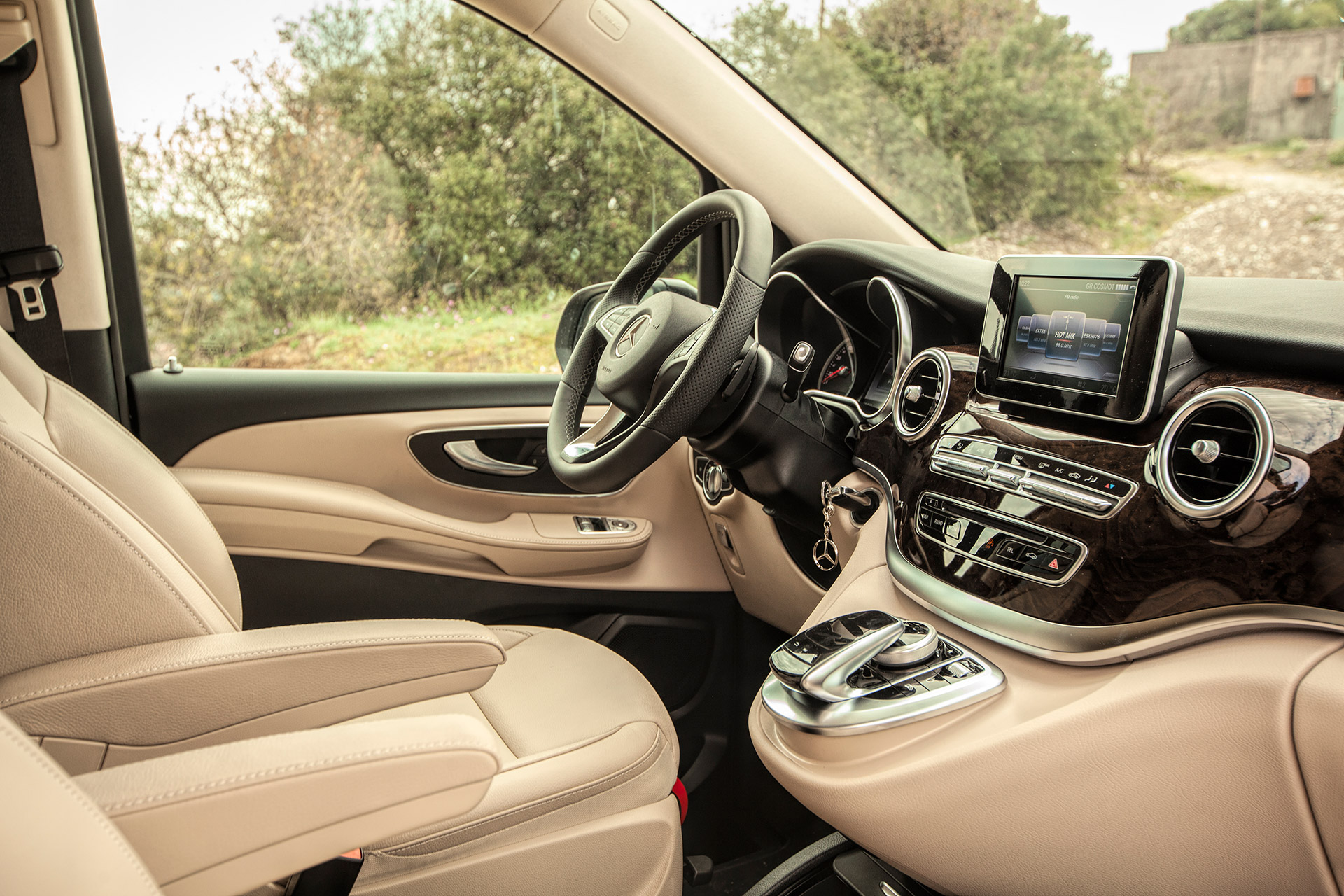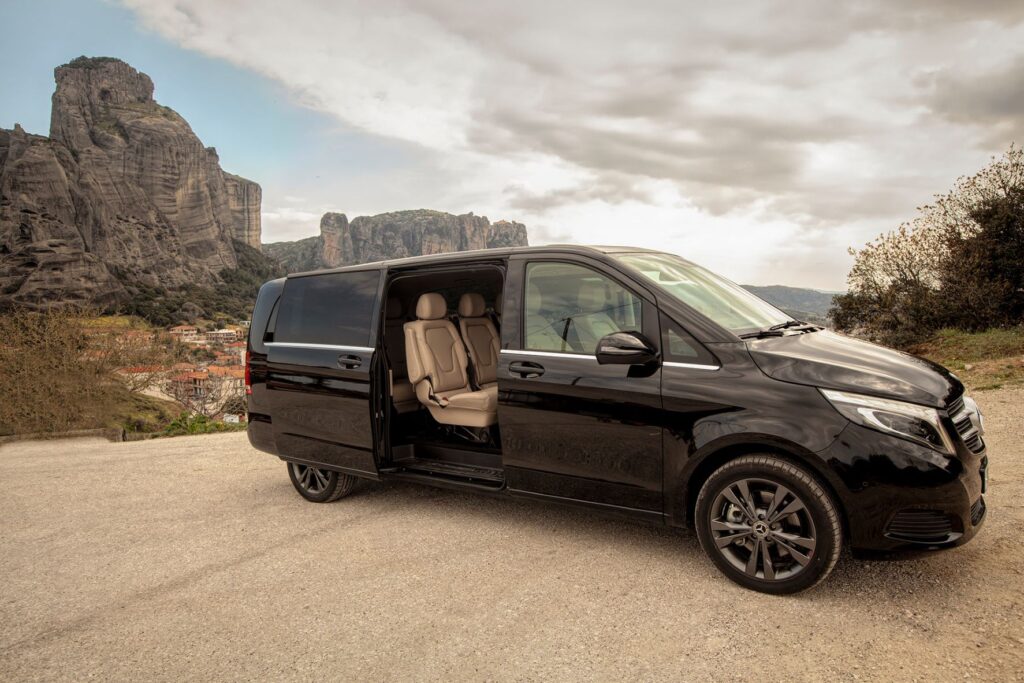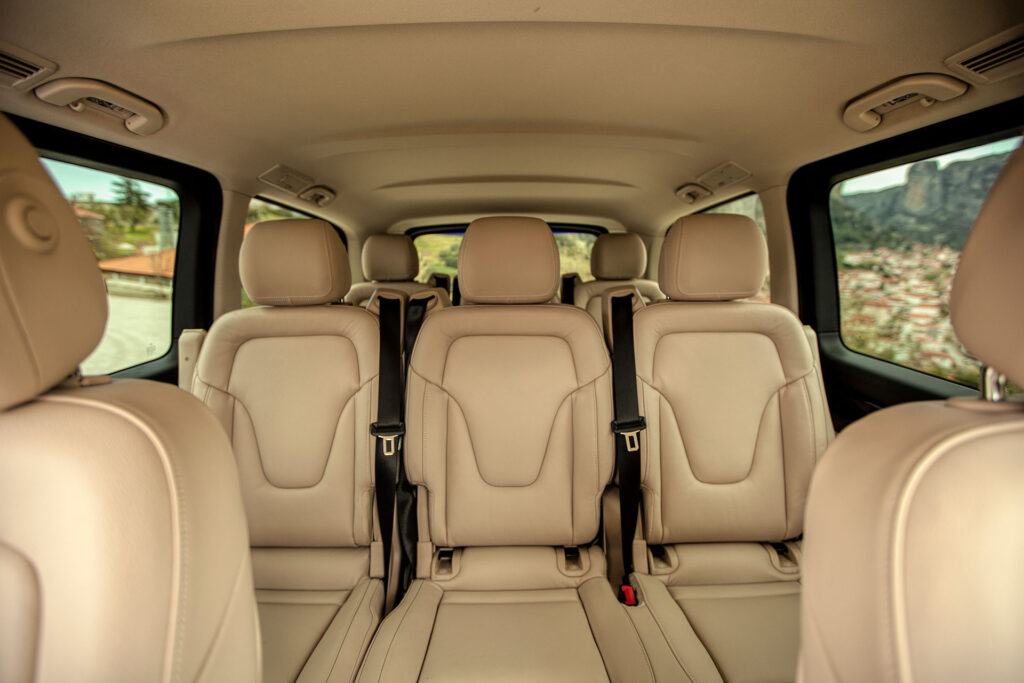 Audi A3 Sportback 1.4 TFSI CoD S-Tronic Sport, model 2017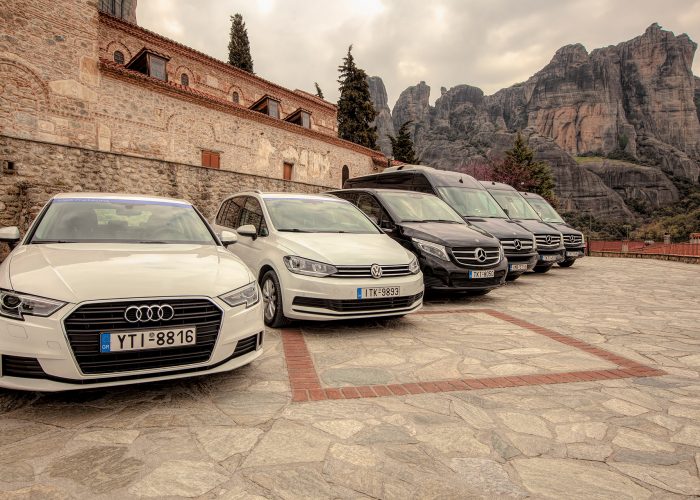 An ideal choice for transfers and tours of single travelers, couples, or small groups of up to 3 people.
VW Turan 1.6 TDI Advance, model 2017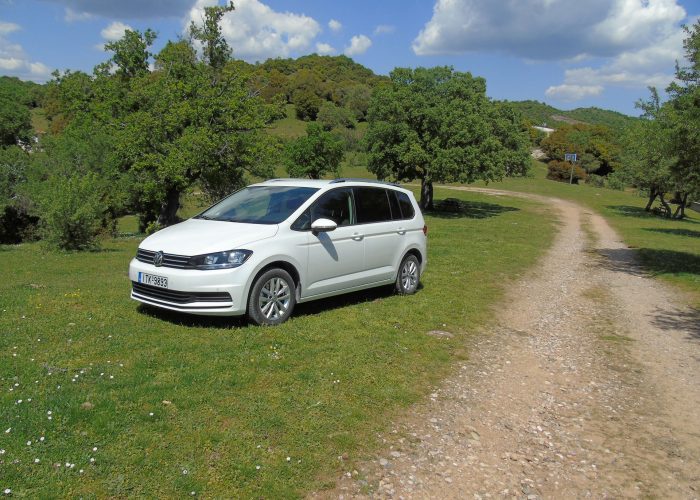 With its wide cabin and space inside, it's an ideal choice for families or small groups of up to 5 persons.
Why you should Book with us?
Still not convinced? Check out eight good reasons to make your booking now!
Travelers' reviews and photo reviews highlight all the best places that our customers have shared. You can also share your feedback at Trip Advisor, Facebook, and Google+
We do not deal with big-size group bookings. Our small-size tours guarantee a personalized approach.
Unlike many travel operators dealing with trips and holidays to Meteora, we are actually located here, in Meteora! All the members of our team have an intimate knowledge of this region and can share their first-hand knowledge and experience with you. We are locals ourselves, wishing to share with all visitors the beauty of our homeland! Contact us as soon as you arrive here and let us help you with sorting out any unforeseen issues that may occur.
Exclusive online Specials & Early-bird Savings!
We have our 'Best Price Guarantee' and we have exclusive specials and early-bird booking specials to ensure that booking with Visit Meteora provides you with the best value, anywhere around the world! Our specials are updated regularly on our website so that you can see how much your tour is going to cost immediately!
Many of the tours on our site and all of our trips are unique in Visit Meteora. They have been thoroughly designed by us to ensure that your tour goes smoothly and they are updated regularly to include new accommodation, attractions, and travel ideas that reflect our customer feedback.
Customisable tour options
Our tours are designed to show you the very best areas and sights, but we'd be happy to alter your tour with extra nights, additional activities, and special diversions to suit your travel wish list. Trust us to design your dream itinerary.
Flexible cancelation policy
Unexpected weather or events? Don't worry, we've got you covered. Your dedicated travel consultant will rework your itinerary, update your accommodation and re-book activities, all while keeping you safe and informed. We're contactable 24/7 on our emergency helpline, and only a phone call away.
Prompt service and email replies!
There is nothing more annoying than taking the time to fill out an inquiry form, or Emailing a travel company and not getting a response for days – and sometimes not at all! It is a great priority for us to get back to all of our clients as quickly as possible.