The old Chapel of Doupiani
The first skete (hermitages) in the region of Meteora appeared on the low rock of Doupiani around the 9th century A.D. Later on, reasons of safety and security urged the first monks to abandon them and settle on higher rocks. In the late 12th century a small church called Panaghia Doupiani (Virgin Mary of Doupiani) was built on the foothills of this low rock.
It became the focal point in which all hermits would gather to attend the Sunday liturgy some 2 centuries before the idea of building the first monastery of Meteora. Some indicative dates as to when exactly the hermit monks arrive into the area are either the 9th or the 10th century. At the end of the 11th century and early 12th, a small ascetic community was already established around Meteora.
During that period the hermits of Meteora saw the need to gather around a place of their own in order to attend the Sunday's liturgy. So they decided to erect a small church dedicated to Theotokos that quickly became the center of their worship.
This church is also referred to it as the "Kyriako" translated into Sunday's, or "Protato" meaning the first. This church of Theotokos (Virgin Mary), known also among the locals as the chapel of Doupiani, still preserves significant frescos from the 13th century.
Owing to the magnificent view of this location, a new district with traditional houses, small but modern hotels, and well-known tavernas emerged around Doupiani, in the picturesque village of Kastraki.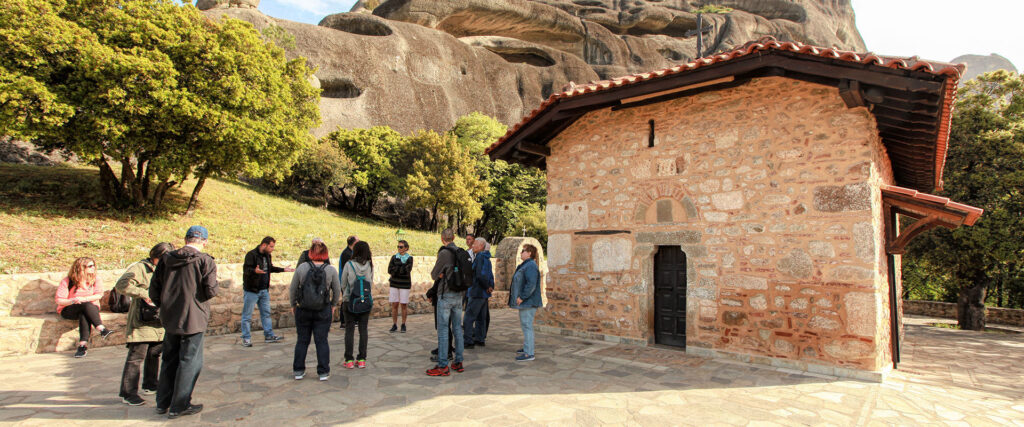 Discover this hidden monastery by joining the Half-Day Sightseeing tour.
Visit 3 main monasteries of Meteora and discover the natural beauty and the cultural heritage of this area. This Meteora Half-day Sightseeing Tour will take you back to the dark ages and the story of the first hermits and monks, who laid the foundations of what later on became the monastic community of Meteora.
Location of old chapel of Doupiani on the Map