This is the highest of all Meteora cliffs, with a height of 630 m (1890 ft) above sea level. It rises above the modern town of Kalabaka. A path leading up to the tower of Aghia, meaning "Great Saint" starts from the old quarters of the village Kastraki.
The ruins of an ancient tower are located on the peak of a rock called Aghia and played an important role as a safe place for the locals. Later on, the first monks also used this massive cliff to settle on top. Today, this hidden trail has become an amazing hiking experience. It's quite a challenge and of a great adventure that appeals mostly to active individuals with good fitness levels.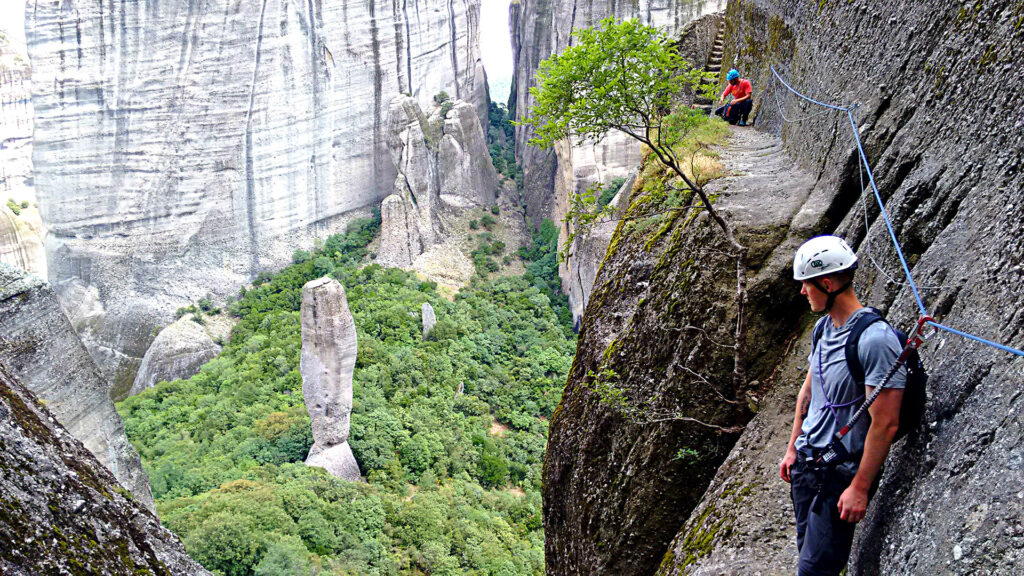 Discover the rock of Great Saint by joining the Hiking and Scramble tour of Great Saint.
This Hiking and Scramble Tour of Great Saint will take you up on the tallest of all Meteora rocks, some 400 meters above the town of Kalampaka, through an ancient winding path upon the rock of Great Saint, a huge rock complex which thousands of years ago was an integral part of the ancient fortifications of the town below.
Because of its high difficulty, for safety reasons, it is not recommended without a guide. On the way to the top one passes by the bizarre-looking rock of Adrachti, then proceeds to walk on the rock-carved steps and encounters the rock-carved cisterns before reaching the spot in which a white cross has been placed.
The tower of Aghia initially served as a local "acropolis" during the classical period, a naturally formed impregnable position. When the Ottomans arrived in the 15th century they renamed our town from its strong defensive position and gave its present-day name Kalampaka. The modern name of the town is a minor deviation of the Turkish words Kale-bak meaning prestigious castle.
Discover the well-hidden acropolis of "Eginio" the ancient name of Kalampaka, which later on became the monastery of the 12 Apostles. The view from the peak of this rock is just exceptional!
Location of Badovas Hermitages on the Map