Aspropotamos in Greek literally means the white river and it is the springs of Acheloos river, a mythical god of ancient times.
Attempting to describe the beauty of this region is next to impossible. For instance, the pine and beech trees, scattered traditional villages, old stone bridges, beautiful old churches, and the fascinating river of Acheloos could only be some of this incredible region's main assets.
The community of Aspropotamos is located northwest of the prefecture of Trikala. The prefecture of Trikala is located in the northwest part of the Thessaly District in central Greece. It is the birthplace of Aheloos river the second-longest in Greece. Moreover, Acheloos is known since antiquity as one of the most important rivers in Greece. It was worshiped as a god and was the father of the Sirens and Nymphs. Ancient people worshiped him in order to calm his mighty waters.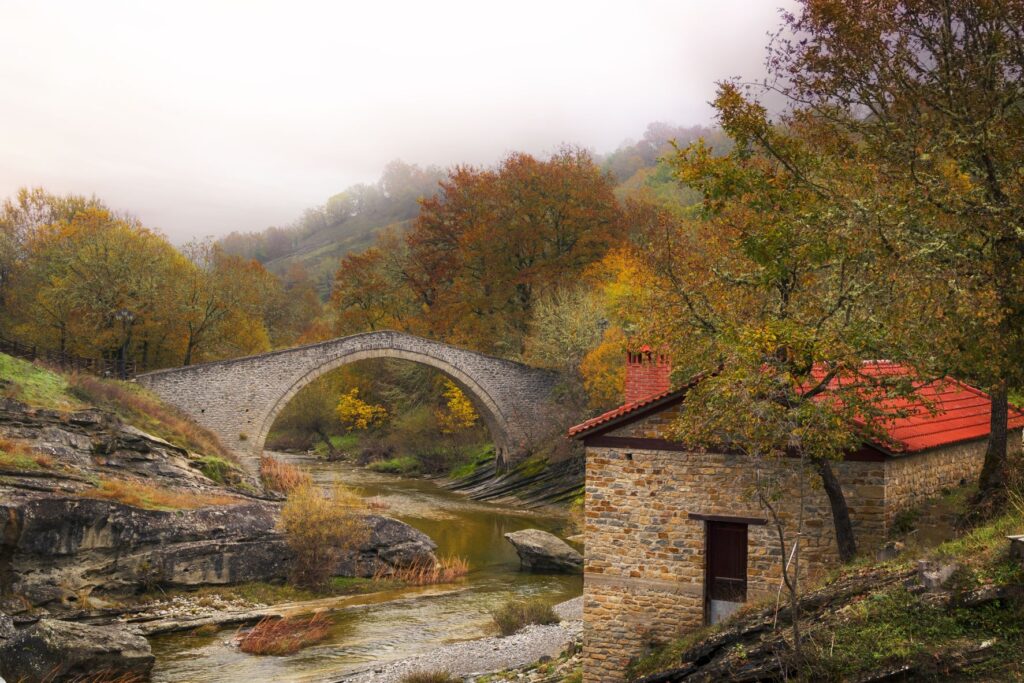 Villages "lost" in the forests of pine and beech trees, retain their natural beauty and many aspects of traditional living. They offer opportunities for relaxation, mountain and river sports as well as contact with the cherished traditions.
The community of Aspropotamos is composed of the villages of Haliki (pebble), Anthousa, Krania (it means cornel-tree), Katafyto (covered with plants), Milia (apple-tree), Agia Paraskevi, Kalliroi, Polythea (with many views), and Stefani (wreath). The area owes its beauty to the high mountains, with the highest being Mt. Lakmos or Peristeri (2295 m) and Kakarditsa (2429m), the rich variety of plants and trees, the mighty waters of the Acheloos (aspropotamos) river, and the unforgettable fresh spring water. 
In conclusion, try visiting this area all year round. Experiment with rafting, horse-riding, 4×4, or simply enjoy hiking in one of Greece's most beautiful regions. Aspropotamos is 1 hr away from Meteora (50 km) and the route followed is absolutely striking. Just let yourselves indulge in the endless green of nature. If you decide to go rafting in Aspropotamos the ideal months are from October to May. During the summertime, the river gets very shallow not allowing for rafting activities.
Location of Aspropotamos on the Map