The monastery of Agios Stefanos or St. Steven is by far the most accessible monastery, where instead of steps you simply cross a small bridge to reach the entrance. It is ideal for visitors with mobility issues who cannot use the steps and yet wish to have a real experience of a Meteora monastery.
The beginning of the Agios Stephanos monastery dates back to the early 12th century and the first hermit monks who settled on the cliff. Centuries later, Hosios Antonios, in the first half of the 15th century, and Hosios Philotheos, who renovated or rather rebuilt from its foundations the old small and elegant Catholicon, the present church of Agios Stephanos, in 1545 are mentioned as its founders.
Summer timetable
Visiting Hours: 9:00 to 13:30 and 15:30 to 17:30. The monastery stays closed on Mondays.

Winter timetable
Visiting Hours: 9:30 to 13:00 and 15:00 to 17:00. The monastery stays closed on Mondays.

Contact Number
+30 24320 22279

Appropriate clothing for everyone is required to enter the monastery. Sleeveless clothing and shorts over the knee for men are prohibited and you'll be denied access if dressed that way. For ladies skirts and shawls are available at the entrance in case they don't have such clothing to cover themselves.
Agios Stefanos Monastery has two chapels; the old 15th-century Saint Steven's chapel which was severely damaged during WWII and the consequent Greek Civil War, and the 18th-century main cathedral that is dedicated to Saint Charalambos and includes his holy relics.
Like most Greek Orthodox monasteries, Agios Stefanos possess the holy relics of their saints or founders in its main chapel. Visit this monastery for the spectacular views towards the vast valley of Thessaly, the river Pinios and the Pindos mountain range across the plain. Enjoy the captivating scenery of Kalabaka town from 300 meters above the ground!
If you want to learn more about the myths and history of the Monastery of Agios Stefanos, join one of our tours and we will ensure that you won't miss a thing!
Frequently Asked Questions About Meteora The Monasteries
Location of Agios Stefanos Monastery on the Map
Check More Monasteries of Meteora
The Monastery of Holy Trinity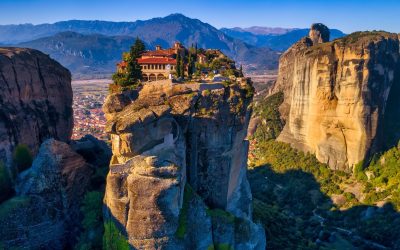 The Holy Trinity Monastery (Agia Triada) at Meteora is one of the most photographed monuments in the area. At the same time, it's the most difficult to reach.
The Holy Monastery of Varlaam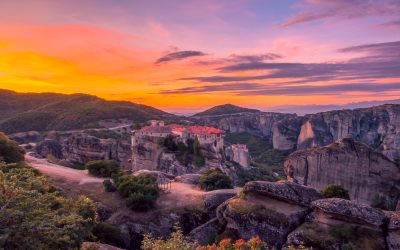 The Holy Monastery of Varlaam is the second biggest monastery of Meteora. Located very close to Great Meteoro Monastery,
The Monastery of Roussanou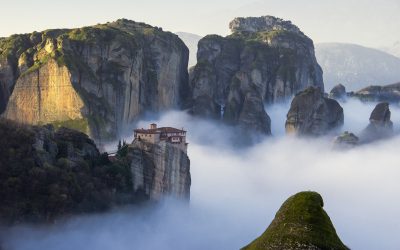 The Holy Monastery of Roussanou, located at Meteora was first established in the 14th century. It received the name… 
The Monastery of Great Meteoron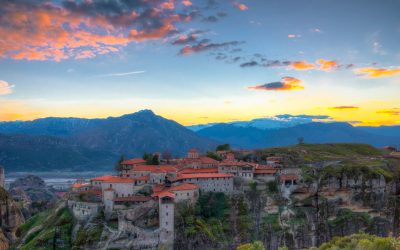 The Holy Monastery of Great Meteoron, located at Meteora-Greece, is the biggest and oldest one of all.  It was called the monastery which remains
The Monastery of St. Nikolaos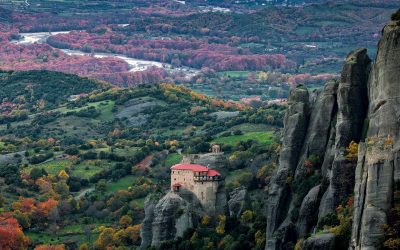 The Holy Monastery of Saint Nicholas of Anapafsas or Agios Nikolaos is the first active Monastery we encounter on our way to Meteora
Old Hermitages Around Meteora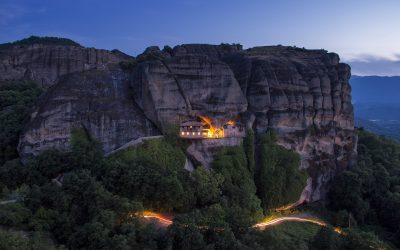 Today the area is filled with many Meteora ruins and hidden gems, of a past period when at the height of the monastic community the site had close to 24 active