Getting to Meteora from Athens
If you wish to travel from Athens to Meteora, then you have plenty of options on how to reach Meteora from the capital of Greece. Whether it's only for a day trip or for a multiday visit, you have the opportunity to choose to travel from Athens to Meteora between train, bus or car. to get If you are staying in Athens don't miss the chance to explore this amazing UNESCO site of Greece!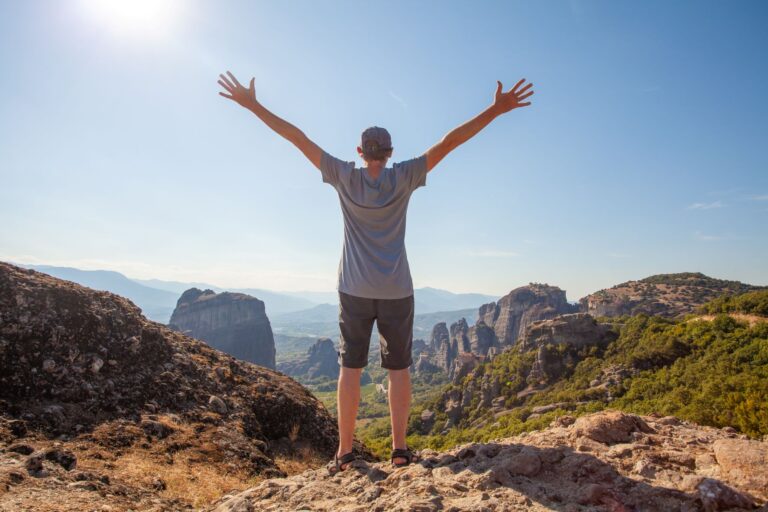 November 17, 2015
Things to do and what to see at Meteora Plan to visit Meteora in 2022 and you are not sure which is the best itinerary for your travel ...
Read More +
How to reach Transportation Hubs from Athens International Airport
Below, we give a few options on how to travel from Athens International Airport (Eleftherios Venizelos) to different locations and transportation hubs of Athens:
Take the Metro line 3 (Blue line) direct to Syntagma, or the Suburban Train (1 train every hour, first train departs 06:09 am, last 22:50 pm) or catch the public bus line X95.
Larissa (or Larissis) Athens Train Station:
Take the Metro Line 3 (Blue line) to Syntagma Station and there change to Line 2 (Red line) to Larissa Station. You may also take the Suburban Train (same as above) from the airport, it goes straight to Larissa train station.
Metro Line 3 (Blue line) to Monastiraki Station and there change to Line 1 (Green line) to Piraeus port, the Suburban Train (1 train per hour first train depart 06:09 am, last 22:50 pm) or take the Bus Line X96.
Liosion Bus Terminal (KTEL):
Liosion Bus Terminal is the bus station you need to be to in order to take a (KTEL) bus to travel north of Athens. If that's the case then take the Bus Line X93.
Important notice: From 2017 and on, Athens's public transport ticketing system transitioned from the traditional paper ticket to a modern paperless ticket with the usage of smart cards (similar to London's Oyster cards). If you are planning to travel to Athens during 2018 9, then you should definitely check the Athens Transport Tickets and Cards, for the latest updates on how to buy and use this new form of the electronic ticket on all major Athens public transportation means.
Taxis from Athens International Airport to central Athens should cost around 38.00€ Euros (05:00 am till 23:59 pm) and 54.00€ Euros (00:00 am till 04:59 am). The taxi price quotes above are indicative and may vary depending on your destination or traffic.
Larissa (or Larissis) Athens Train Station
Liosion Bus Terminal (KTEL)
How to get from Athens to Meteora by train
Thanks to the Metro system getting a train to Meteora is most probably the easiest way to go. No matter where you are, there will be a metro station nearby and once you are in there, getting to the train station is easy as pie.
if you arrive at Athens International Airport and want to get to the central train station in Athens you can follow these easy steps:
Get into the Metro (Athens Airport Station – Blue line). The ticket for the metro from the airport costs 8 Euro.
Change line at Syntagma station and get to the red line heading to Anthoupoli
Get off at Larissa Station, which is the central train station in Greece.
At the Train station, you can board the train to Kalampaka, which is the city below Meteora. Kalambaka is a terminal station, meaning that if you get on a direct train you won't have to worry about getting off at the right station. It will be the last one!
Please take into consideration that some train routes change to Paleofarsalos station. You should be aware of your train if it is a direct one or not!
Find the best Meteora tours from Athens here!
Here you could find the time schedules for busses and trains;
Be aware of Greece's public holidays and general strikes. Some of the dates that are better avoid traveling by public transports are the following;
1st of May (general strike for trains)
Orthodox Easter holiday
New Years Eve
28th October and 25th March (public holidays)
17th November (general strike)
Getting a bus from Athens to Meteora
Getting a bus to Meteora is a bit more tricky than getting a train. The bus station is located near Kato Patissia (green line) station. There are a few ways to reach it.
From any metro line, change at Monastiraki station and get into the Greenline heading to Kifissia.
Get off at Kato Patisssia station and either walk about 1km to the bus station or get a taxi to get you there. The taxi should cost 3.20 Euro plus any extra charges for arriving at a bus station but it won't go over 5 Euro.
If you are going to get a taxi then you should tell the driver to get you to Liossion Station and not Athens bus station.
At the bus station, you should get a bus to Trikala, which is the big city near Kalampaka and Meteora. Once you get to Trikala you can catch a bus to Kalampaka.
If you wish to find more details about the Greek public buses then you can read our blog post "How to travel by bus around Greece"
How to drive from Athens to Meteora?
Driving to Meteora from Athens is easy with some exceptions. Most probably the hardest part of the trip is getting out of Athens, especially during rush hour. Once you are out of the city, you will enter highway E75. Continue on this road until you reach Lamia city, where you should take the exit to Lamia/Karditsa/Trikala.
There comes the second hard part of the road, which is getting uphill and downhill at Domokos mountain range, after the city of Lamia. It takes about one hour to get on and off but there are plenty of turns, so drive carefully. After you get off Domokos, follow the road signs to Karditsa, then to Trikala, and lastly to Kalampaka.
It is highly recommended that you have a GPS onboard so there is no way of getting lost.
Certainly, if you have a smartphone and have google maps enabled, then you can use our interactive map of Meteora to get directions from your place to your hotel here easily.
That's it! Welcome to Meteora! We would be glad to have you come by our offices and get to meet you in person!