The Monastery of St. Barbara or Roussanou
The Holy Monastery of Roussanou, located at Meteora Greece was first established in the 14th century. It received the name "Roussanou" probably from the first hermit-monk who settled on the rock around that period. The monastery is one single building occupying the entire available surface of the cliff. It creates the impression that the building was carved out from the cliff as the extension of the rock itself!
It was mainly built in three main levels in the 16th century, in an effort to increase the available space inside. The main cathedral was founded at the end of the 16th century and was decorated thirty years later by a monk who was a very skillful artist and lived at the monastery of Roussanou.
Compared to other rocks where monasteries were built, the one of Roussanou has a lower elevation, which makes it more accessible. The monastery was initially founded by monks and it suffered severe damage during World War II. It became a convent not that long ago in 1988 and today more than 15 sister nuns live in the small and cozy monastery of Roussanou.
Summer timetable
Visiting Hours: 10:00 to 16:00. The monastery stays closed on Wednesdays.

Winter timetable
Visiting Hours: 09:00 to 14:00. The monastery stays closed on Wednesdays.

Contact Number
+30 24320 22649

Appropriate clothing for everyone is required to enter the monastery. Sleeveless clothing and shorts over the knee for men are prohibited and you'll be denied access if dressed that way. For ladies skirts and shawls are available at the entrance in case they don't have such clothing to cover themselves.
The beautiful wall-paintings of the Catholicon were executed in 1560, when the priest-monk Arsenios was the abbot of the monastery. The unknown hagiographer seems to have been a very skilful artist and successfully follows the Cretan School style.
Visit Roussanou Monastery for a different view of the surrounding cliffs and the adjacent Meteora Monasteries. Follow the pathway from this monastery to the upper main road and discover an off-the-road panoramic viewpoint spot that allows you to walk on bear rocks! Don't miss out on this photo opportunity!
Frequently Asked Questions About Meteora The Monasteries
Location of The Holy Monastery of Roussanou on the Map
Check More Monasteries of Meteora
The Monastery of Holy Trinity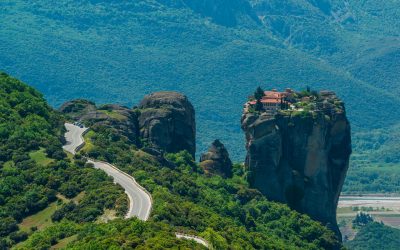 The Holy Trinity Monastery (Agia Triada) at Meteora is one of the most photographed monuments in the area. At the same time, it's the most difficult to reach.
The Holy Monastery of Varlaam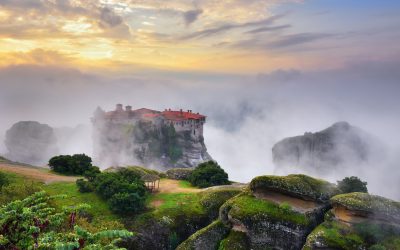 The Holy Monastery of Varlaam is the second biggest monastery of Meteora. Located very close to Great Meteoro Monastery,
The Monastery of St. Stephen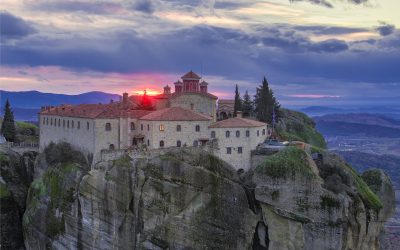 The monastery of Agios Stefanos is by far the most accessible monastery, where instead of steps you simply cross a small bridge to reach the entrance.
The Monastery of Great Meteoron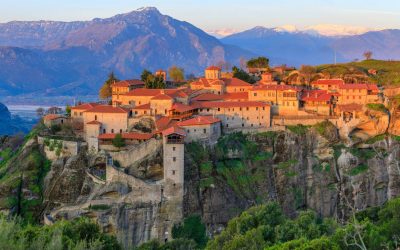 The Holy Monastery of Great Meteoron, located at Meteora-Greece, is the biggest and oldest one of all.  It was called the monastery which remains
The Monastery of St. Nikolaos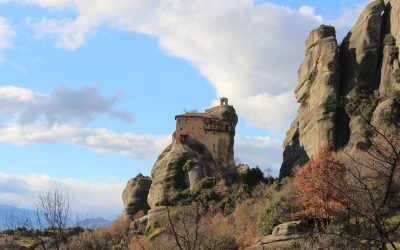 The Holy Monastery of Saint Nicholas of Anapafsas or Agios Nikolaos is the first active Monastery we encounter on our way to Meteora
Old Hermitages Around Meteora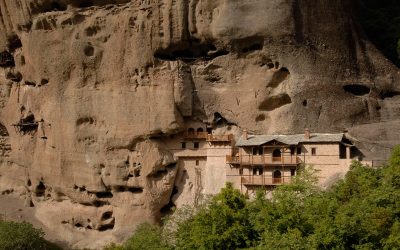 Today the area is filled with many Meteora ruins and hidden gems, of a past period when at the height of the monastic community the site had close to 24 active