A beautiful countryside to discover
The rock forest of Meteora is located on the northwest tip of the plain of Thessaly and is surrounded by two mountain ranges. To the west Pindos mountains rise like a huge natural wall, separating Greece from East to West, while to the northeast of Meteora lays the mountain rage of Chassia. Between these two mountain ranges, just north of Meteora, the terrain changes and is now dominated by small hills covered with oak trees, beautiful narrow valleys with a bit of farmland, and a few small rivers and creeks flowing among them.
One place of exceptional beauty in this blessed land is the area around the village of Gavros. A small settlement located some 20 km away from the town of Kalabaka and Meteora, of approximately 300 inhabitants who are mostly occupied in agriculture and animal farming. The settlement of Gavros nests on the foothills of high cliffs, geologically like the ones we have at Meteora. The cliffs of Gavros are the geological continuation of Meteora rocks that extend to a much wider area. That by itself creates beautiful scenery with plenty of vantage points for someone to explore and to admire exceptional views.
What there is to see around Gavros
From the central square of the village, one can find the path for a short walk to the cave church of St Nikolas. It is located no more than 2 km northeast of the village square.
On the short walk to the cave church of St. Nikolas, you are going to have the chance to admire spectacular views of Gavros village and the rest of the valley. In the central square of the settlement, visitors can enjoy the warm welcome of the villagers with a refreshment under the thick shade of the old maple trees.
An ideal resting spot especially during the scorching summer days. Close to the village, on the main road towards Kalabaka, you will find the Liakos Domain winery. It is one of the best wineries of Meteora where you can enjoy a tour by the very hospitable Lina, the owner of the winery, and have the chance to taste exceptional local wines.
How to find and visit the village from Meteora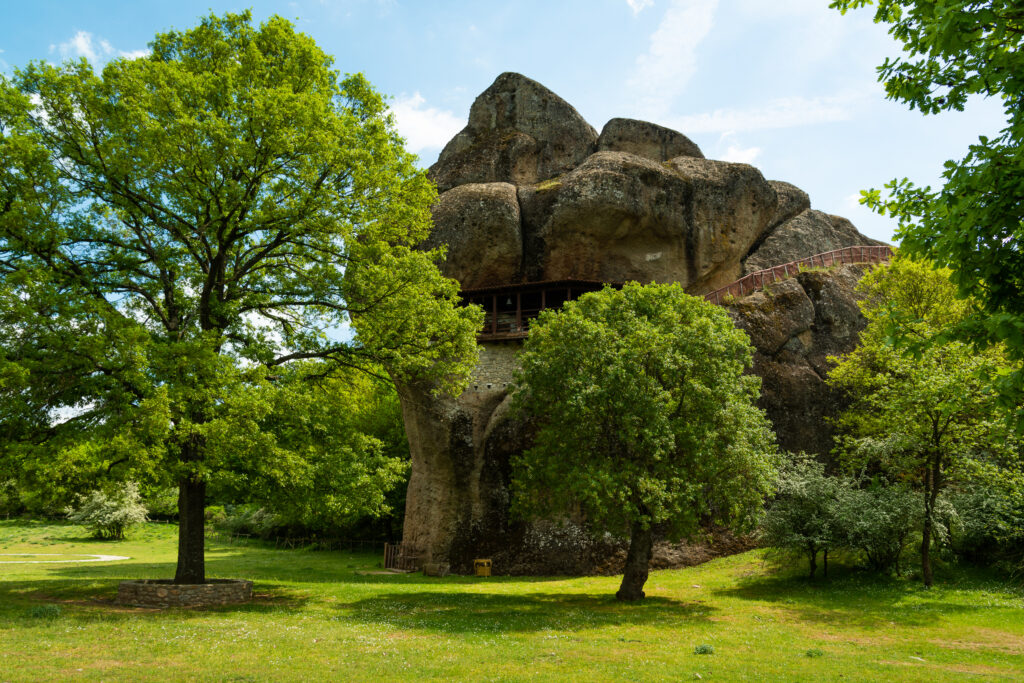 Visitors of Meteora can arrange for a short trip to this beautiful countryside. One may choose to drive to Gavros village from Meteora on a circular route of approximately 40 km.
Either through the monasteries of Meteora passing through Vlahava and Skepari villages to reach Gavros or from the national road to Grevena following the sings to Gavros and then returning to Meteora in the opposite direction passing through Skepari first and then Vlahava.
The route and the surrounding area are very scenic and we highly recommend a short excursion to discover the authentic atmosphere and the beautiful countryside of Gavros village.
Location of Gavros Village