Traveling by train to Meteora can be incredibly scenic. You can see cities, mountains, and rivers passing in front of your eyes. Traveling by train is just an all-around better, more relaxing experience than its air and car counterparts. While those are mainly about getting from point A to point B, trains are about the ride. Hopping by air from one city to another is hard to get under the skin of a destination.
Crossing a country – or a continent – by train, is a journey through its landscapes and, as Hemingway said, it is the journey that matters. Trains are more energy-efficient per passenger mile than planes or cars, making them one of the most eco-friendly transportation options around (short of walking or riding your bike!). Carbon emissions from trains are less damaging to the environment than those of airplanes because train emissions are not released directly into the upper atmosphere. As a bonus, the relative energy efficiency of trains means that the industry is less vulnerable to increases in fuel prices — making train fares more stable in an unstable economy.
Here you could find the following options to come to Meteora by train;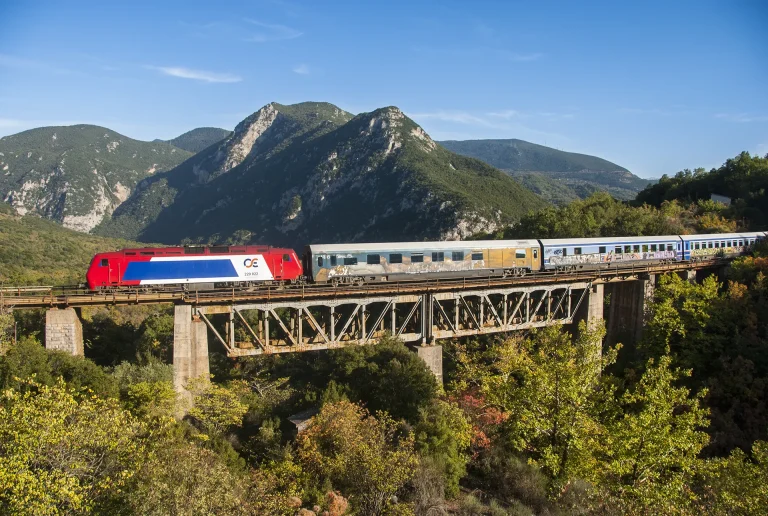 November 25, 2019
Planning for a trip from Athens to Meteora by train? In the following post, we give a list of important "Things to Know" before the rail ...
Read More +
From Athens International Airport
Athens airport is well connected with almost all means of public transportation. You'll find more detailed information about public transportation connecting Athens International Airport with central Athens by following this link!
How to find express trains from Athens to Meteora?
Thanks to the Metro system and suburban train getting a train to Meteora is probably the easiest way to go. No matter where you are in Athens, there will be a metro station nearby and once you are there, getting to the train station is easy as pie.
So, for example, if you arrive at Athens International Airport by plane and want to get to the central train station in Athens you can follow these easy steps:
Get into the Metro (Athens Airport Station – Blue line).
Change line at Syntagma station and get to the Redline heading to Anthoupoli.
Get off at Larissa Station, which is the central train station of Athens. Be aware that the metro station has the same name as the Athens central train station!
The express trains from Athens to Meteora are the 884 departing from Athens at 07:20 arriving at Kalambaka at 11:31, and the 885 train to return to Athens departing Kalambaka train station at 17:15 arriving Athens 21:25.
At the Train station, you can choose one of the trains below to reach Kalampaka, which is the main town under Meteora cliffs. Kalampaka is a terminal station, meaning that if you get on a direct train you won't have to worry about getting off at the wrong station. It will be the last station on the line!
Please take into consideration that some trains to Meteora are not direct ones but with a connection at Paleofarsalos station. You should be aware of your train if it's a direct one or not.
Search here for the best tours from Athens to Meteora by train!
Book your train tickets online at tickets.trainose.gr and make sure to read our blog post for the things you should know before taking the train to Meteora.
Here you could find the time schedules for trains;
Be aware of Greece's public holidays and general strikes. Some of the dates that is better avoid traveling by puplic transports are the following;
1st of May (general strike for trains)
Orthodox Easter holiday
New Years Eve
28th October and 25th March (public holidays)
17th November (general strike)
How to travel from Thessaloniki to Meteora by train?
In order to get a train to Meteora, you have to get to the New Railway Station, or "Neos Sidirodromikos Stathmos" at Thessaloniki. Now, Thessaloniki does not yet have a Metro, so your options are getting a taxi or getting a public bus to the station. If you arrive at Thessaloniki by plane, then you can get into bus line 78 (or 78N at night) and hop off at the railway station. This is probably the easiest way to get to the train station from Thessaloniki's "Macedonia" International Airport.
Other bus lines that stop at the railway station are: 2, 3, 8, 9, 10, 14, 17, 19, 37, 38, 40, 51, 52, 54, 56, 64. Take care in getting the bus that goes to the station and not the other way around. You can see at each bus stop the lines it serves and you can find the nearest one that gets you to the station. Once at the train station, you can choose one of the trains to reach Kalambaka, which is the city below Meteora.
Please take into consideration that some train routes change to Paleofarsalos station. You should be aware of not missing changing trains at the right station.
Book your train tickets online at tickets.trainose.gr.
Thessaloniki Railway Station
Why book through Visit Meteora a train trip to Meteora?
Sometimes you want to go somewhere that's a little tricky to get to on your own. Maybe there isn't good public transport, or maybe renting a car doesn't appeal to you. Sometimes having to drive can really take away from the sights you want to see. It's worth booking a tour when having someone else handle the transportation arrangements so you can sit back and truly enjoy the experience.
Here are some good reasons as to why you should consider booking a train tour with us: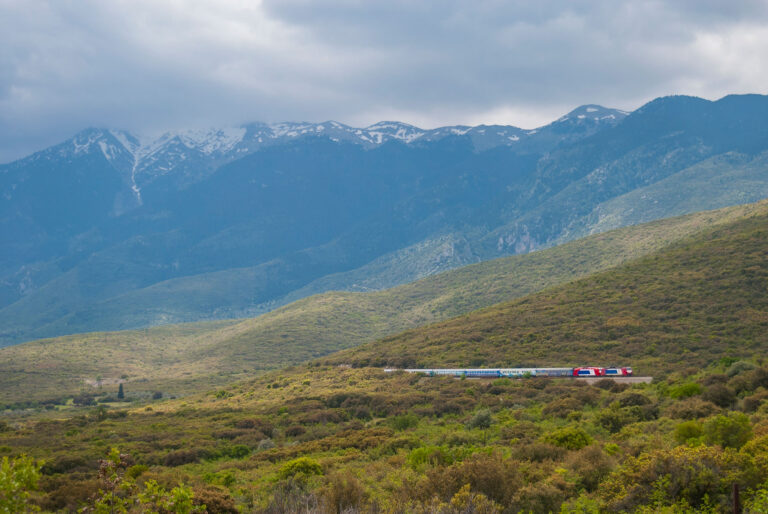 Planning Your Trip, Top Reads
We know that, when it comes to booking your train tickets online in Greece, the company's website can be a bit frustrating. Let ...