We know that, when it comes to booking your train tickets online in Greece, the company's website can be a bit frustrating. Let us guide you through it!
The official website of the Greek train company is tickets.trainose.gr. It can be a bit of a pain to book a ticket because some extremely important sections are not translated into English yet. This illustrated guide is meant to aid you in the process of booking your train ticket online.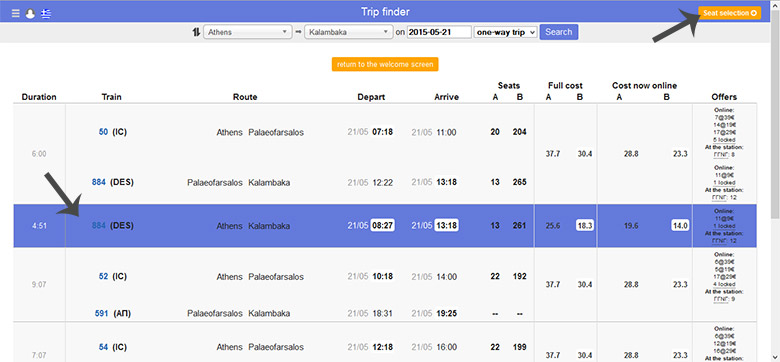 At the first screen, select your arrival and departure station, find the train you prefer,  click on the "Seat Selection" button at the top right corner. That will take you to the seat selection page.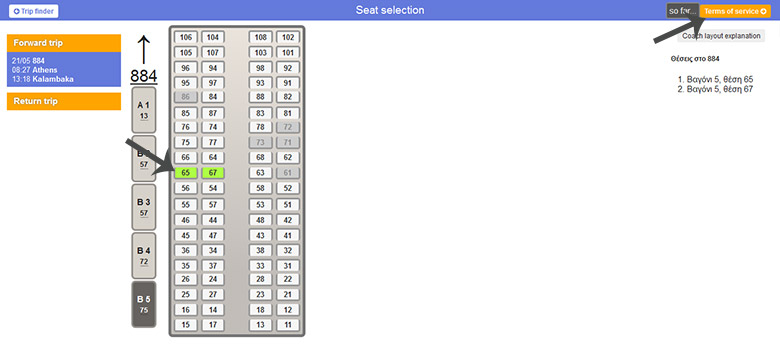 At the seat selection page, after you select your desired seats, on the far right you will see a list of all your selected seats and above that a "Terms of Service" button. Click it!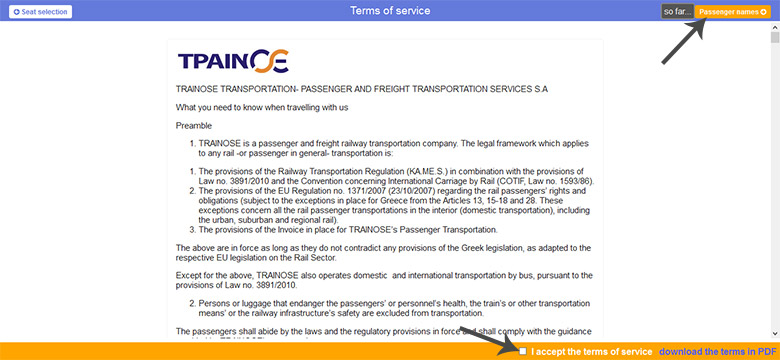 At the TOS page, check the "I accept the terms of service" box and, again at the right corner, click the "Passenger names" button.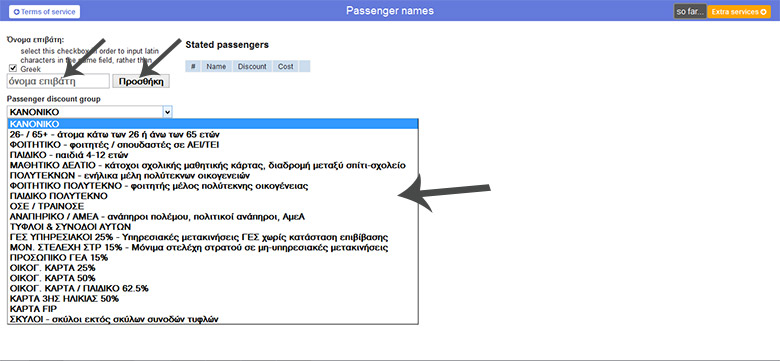 On the passenger names page, you should write down the names of all passengers, one at a time in the "όνομα επιβάτη" (which is Greek for passenger's name) field box, choose the discount group:
"ΚΑΝΟΝΙΚΟ" is for full adult price
"ΠΑΙΔΙΚΟ" is for children from 4-12 years old
"26- / 54+" is for passengers below 26 years old or above 65 years old
"ΣΚΥΛΟΙ" is for dogs, except for guide dogs
Make sure to select the correct discount group and afterward click on "Προσθήκη" to add each passenger to the list to the right. Then, again at the far top right corner, click on "Extra services".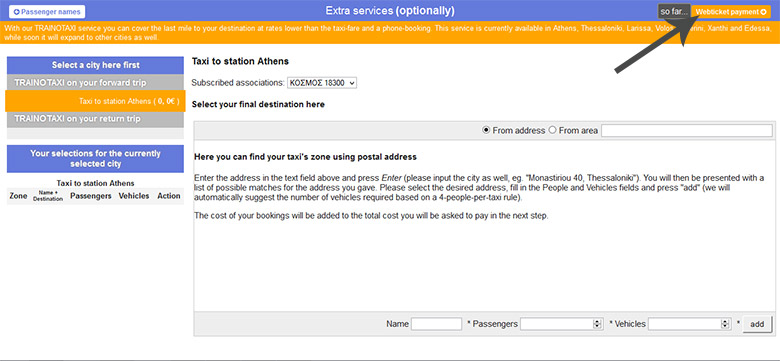 The extra services, as stated, are optional so go ahead and click on "Web ticket payment" at the top right corner of your screen.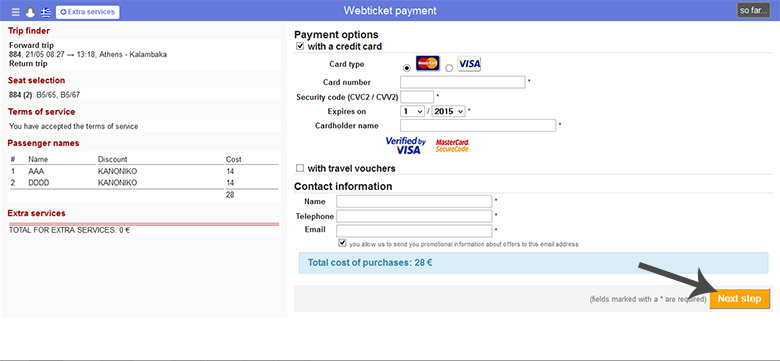 You've made it to the final screen! Review your purchase at the left of the screen and select your payment method (credit card I suppose). Fill in your credit card details and you are set!
After completing the purchase, you will see all your tickets. Print that screen! The website will even ask you to! Make sure to have your train vouchers printed when you board the train to make things easier for you!
If you still find booking a train ticket online a difficult task for you, we are here to help you! Book your next train trip to Meteora with us and let us worry about everything! We will book you all the tickets needed, the hotel in Meteora and activities here.
That's it! Welcome to Greece!