Things to do and what to see at Meteora
Plan to visit Meteora in 2022 and you are not sure which is the best itinerary for your travel plans? You are in the right place! Below we give some tips and ideas on how to better organize an itinerary for your trip to Meteora.
One of the first things you need to check is the sights you wish to visit during your stay here. Meteora offers a wide range of sights and things to do, all listed on our website in the "what to see" and the "things to do" sections. Of course, the things that you'll do and see always depend on the time and energy you wish to spend in each place you visit. So make sure to allocate enough time for Meteora, if that's possible because it's a destination that truly offers a magical and unique travel experience.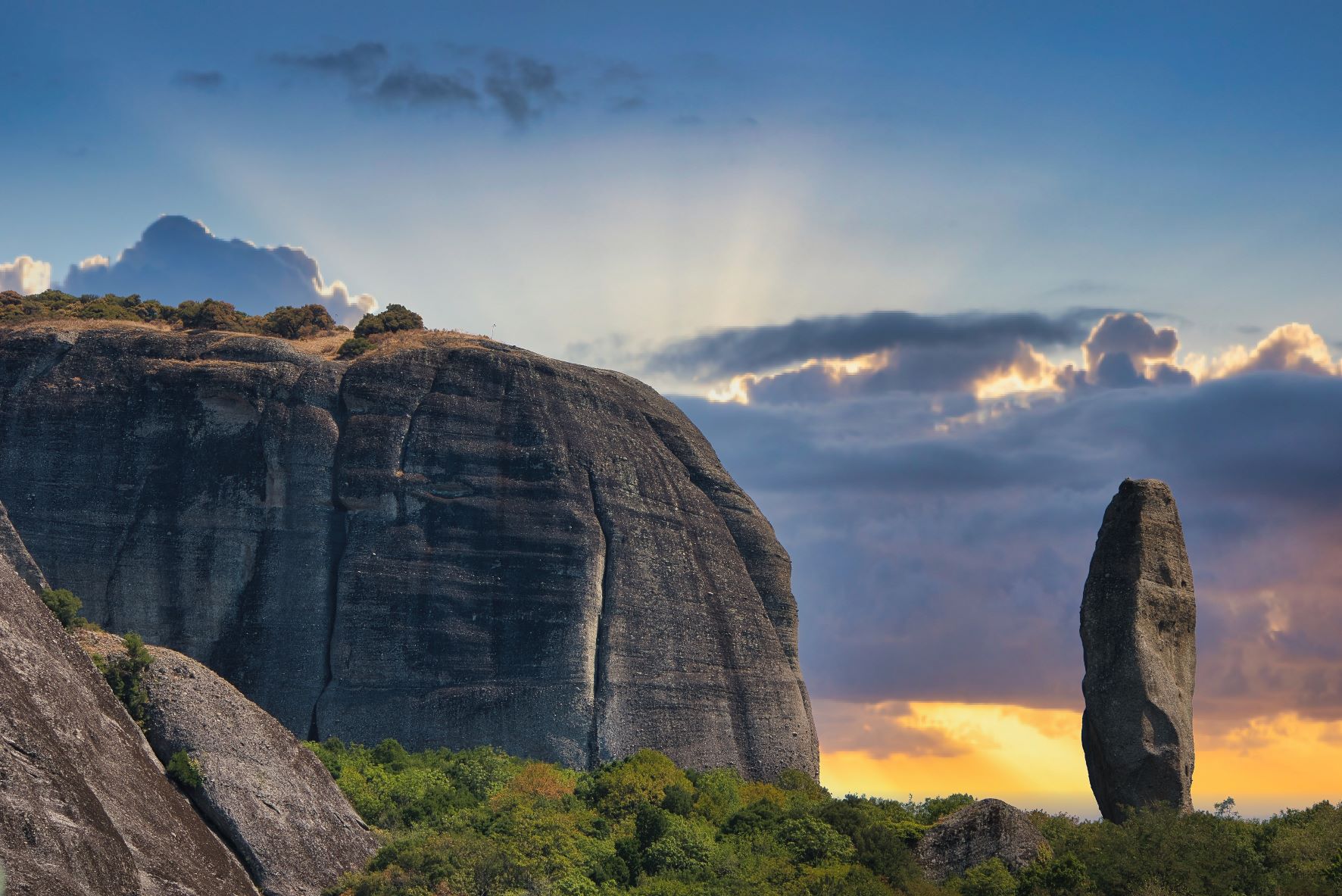 Opening hours of Meteora Monasteries
The main attraction of Meteora is, of course, this "out of this world" geological marvel and the 6 active monasteries sitting on top of these immense rocks. There is a timetable for visiting hours of the Meteora monasteries that you'll have to check first. From Monday to Friday, one or two monasteries, depending on the season remain closed. During the weekend all 6 active monasteries are open to visitors from morning until late afternoon. The timetable and the opening days change with every season. There are 2 seasons of the visiting hours: the Winter period (November to March) and the Summer (April to October).
Over the years, we came across a lot of visitors who arrive with the impression that it's somehow possible to visit all 6 monasteries within a day. This is something highly inadvisable, unless you are a person with a near-perfect physical condition, or if there is no other way around. 5 out of the 6 monasteries, in order to visit them you'll have to climb steep footpaths and stairs. With each one of the staircases that lead up to the monasteries having approximately 150 to 300 steps! The monastery with the easiest access is the monastery of Agios Stefanos which has no stairs at all, a perfect choice for people with mobility issues or disabilities.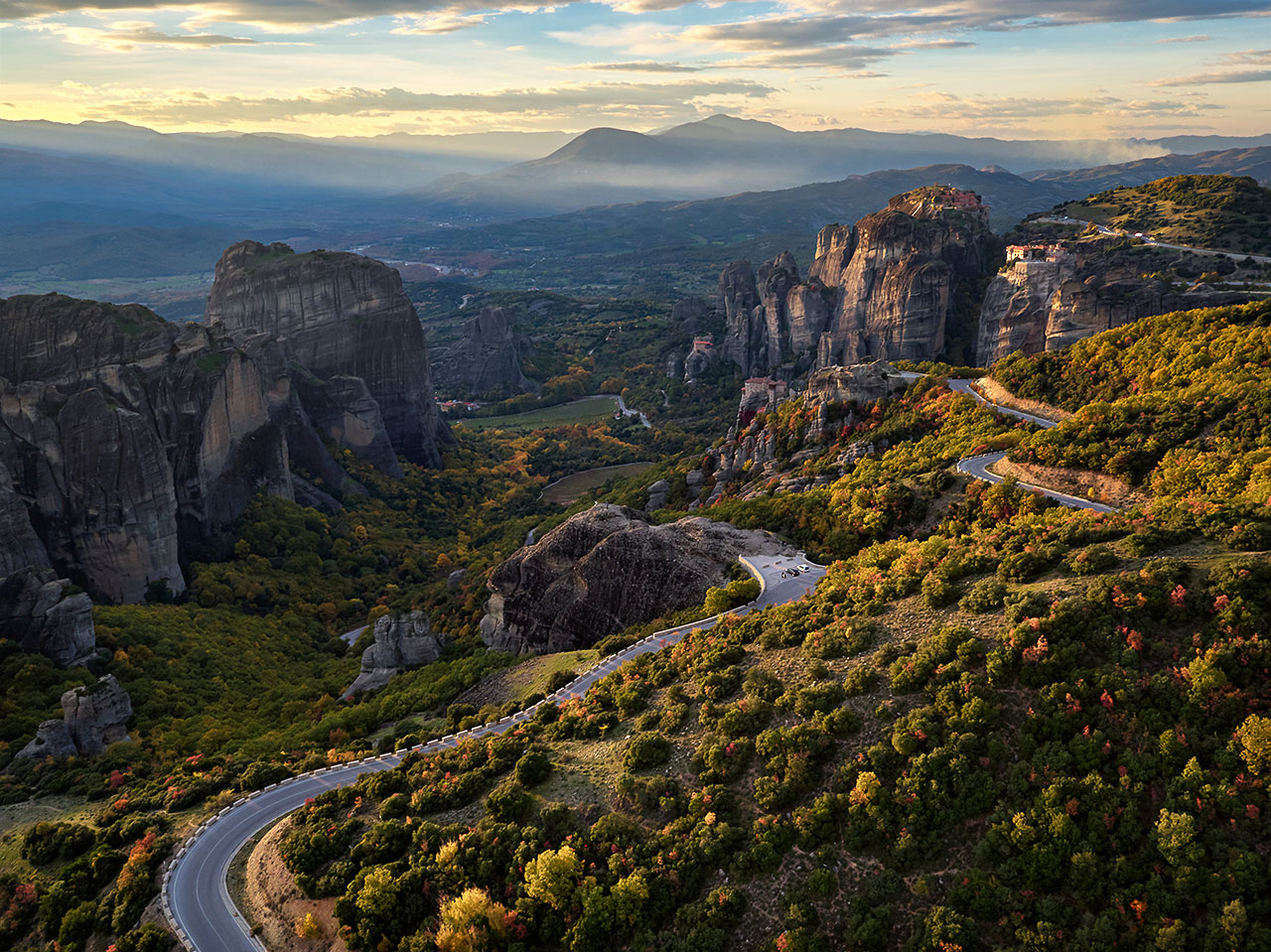 Things to know for a short visit to Meteora
If you have less than 24h to spend at Meteora, then you may plan to visit 2 or 3 monasteries, whether in the morning or in the afternoon hours. Have in mind that, in order to visit a single monastery it will take roughly 45 minutes to an hour minimum, counting from the parking lot outside the monastery.
If you are planning to visit Meteora in the winter period via train and depart the same day, then the best and cheapest way to visit Meteora and a few of the monasteries inside is to book a train-to-train tour. If you wish to spare yourself all the hassle of finding train tickets online you can also choose to book our "Day trip from Athens to Meteora by train".
Another option you have is to hire a taxi from outside the train station. If you are planning to drive your own car here, then you can scroll down on our post to fill the form with your e-mail to send you a map of Meteora. You can do the same on our front page near the footer, there you can submit your e-mail in the Map-Request form and we will e-mail you back the link to download a detailed map of the whole area in pdf format. The map will give you a better idea of the Meteora area, parking lots, roads, and routes.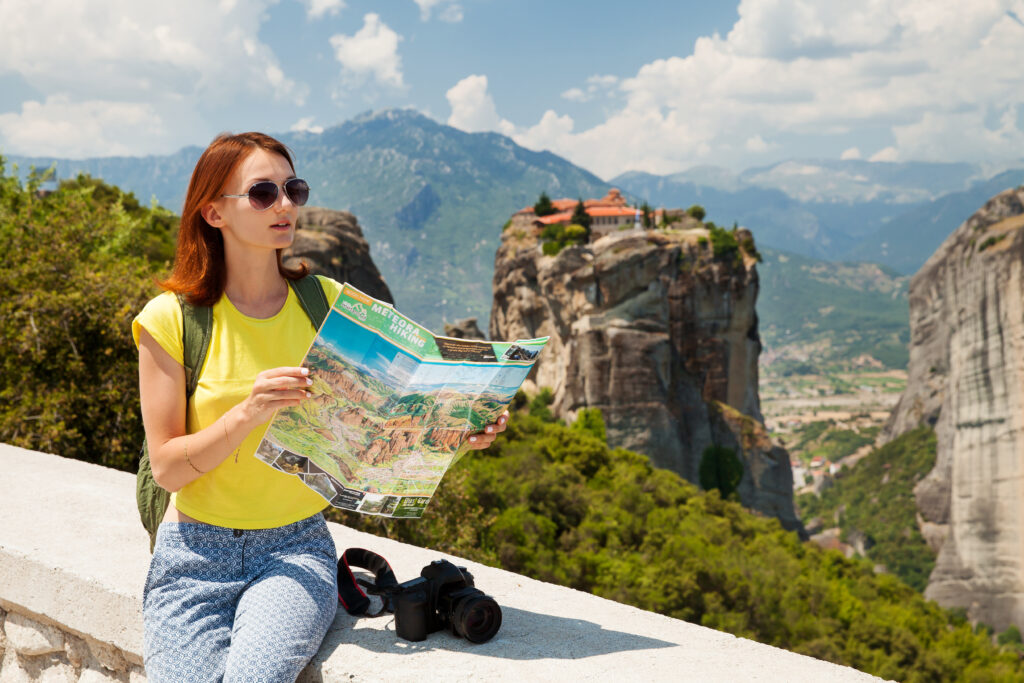 Something else to have in mind is that you won't find places for lunch or dinner inside the archaeological site of Meteora. There are only 3 canteens that sell small snacks and soft beverages, The canines are parked outside of Great Meteoro, Varlaam, and Agios Stefanos monasteries respectively. So don't expect to find any taverns or restaurants inside the site of Meteora. You can have lunch or dinner at a restaurant either in the village of Kastraki or in the town of Kalambaka.
Planning to stay at Meteora for more than a day?
If you are planning to spend a few nights at Meteora, your choices to make the most out of your visit here multiply exponentially! You can organize your itinerary in many different ways. Below we have prepared 2 indicative itinerary examples to consider.
Assuming you have a rental car and arrival is scheduled for Monday late afternoon in the Spring period and planned for 2 nights stay with departure for Wednesday morning.
An itinerary example for a 2-Nights/3-Days stay
Monday (Day 1)

If you arrive around 15:00 then, immediately after check-in, take the car and drive up on the rocks to visit a monastery. The Great Meteoro Monastery it closes at 15:00, so if you wish to visit this one you'll have to be there at least an hour earlier because Tuesday would be closed. Agios Stefanos Monastery remains closed down every Monday, so you don't have this option. Roussanou would be a good choice of a monastery to visit late in the afternoon. The monastery has a moderate difficulty to reach, small in size and mesmerizing views.

Tuesday (Day 2)

Book a Hiking tour and walk the ancient trails of Meteora and include a visit to the Varlaam Monastery. It's one of the best ways to experience Meteora. The tour will end at around 13:30, have lunch and then in the afternoon around 16:00 you can either explore the area by yourself, or you may choose to join the Meteora Sunset tour that will take to another monastery Agios Stefanos (except on Mondays) including all the hidden gems of this place. At the end of the day, you get to enjoy the beautiful sunset, sitting on top of a rock in one of the best viewpoints of Meteora.

Wednesday (Day 3)

Departure early in the morning
Itinerary example for 3-Nights/ 4-Days
Wednesday (Day 1)

Take a taxi and ask the driver to drop you off outside Holy Trinity monastery. That will cost you between 9 to 10 Euros, visit the monastery and then walk down to the town of Kalampaka through the old trail that you will find it on the base of that monastery. It's a beautiful 45 min. walk downhill back to the town. Alternatively you can always join our Sunset tour, one of the best things to do in the whole area!

Thursday (Day 2)

Join a 4-hour morning tour the Meteora half-day morning tour to visit (between 09:00 and 13:00) three monasteries (Great Meteoro, Agios Nikolaos and Roussanou) to enjoy captivating vies and to learn about the history and the legends of the monuments! In the afternoon you may visit the Natural History Museum of Meteora, located in the town of Kalampaka where you will be able to learn about wildlife and the flora of this place.

Late evening, take the public bus or walk from Kalampaka (15 to 20 min.) to have dinner in the picturesque village of Kastraki. The village is located only a kilometer away from the town of Kalampaka so you could easily walk back. Greece, generally speaking, is a very safe country that you'll see kids during summer playing outside till midnight! So, feel safe at Meteora to walk freely without fear, even very late at night.

Friday (Day 3)

In the morning around 09:00 try to catch the public bus to Meteora and reach Great Meteoro. From there, visit Varlaam monastery and then from the foothills of the rock, where the monastery lies, take the ancient trail and walk down in search of the Dragon's cave, located right beneath the monastery. A bit further down the road, you will find the monastery of Agios Nikolaos of Anapafsas monastery to include a visit. In the afternoon make plans to see the Sunset on the rocks either by joining the Sunset tour or by yourself.

Saturday (Day 4)

If you wish to experience a small adventure, why not to join the hiking and scramble tour of Great Saint. This particular 3-hour hike will take you up on the tallest of all Meteora rocks, some 400 meters above the town of Kalampaka. This activity will lead you through an ancient winding path upon the rock of Great Saint. A huge rock complex, which thousands of years ago used to be an integral part of the ancient fortifications of the town below. This is the kind of activity to remember for a lifetime and the best way to end a memorable stay here at Meteora!

Departure late in the afternoon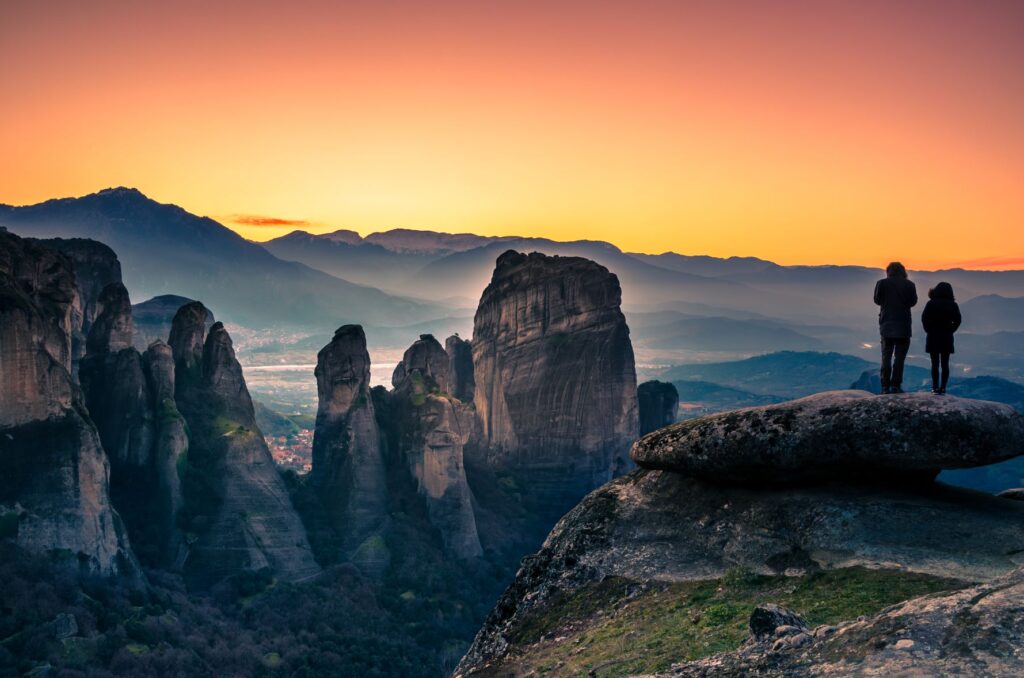 Hoped we help you a bit by sorting out an itinerary for Meteora. If you still have any questions regarding your visit here, don't hesitate to contact us by e-mail or phone, and we will be more than glad to assist you in any way we can!